So the Combine is over. To be honest, I can't remember ever being less excited about an upcoming draft. But, hopefully that's a good thing seeing as I always get excited and then let down when I see the Browns' selections (aside from Trent).
Anyway, without further ado, here's my post-Combine mock draft (v. 1.0). Keep in mind, I have no "sources," or special insight. My projections are based on my analysis of team needs and insight from other people who actually have "sources."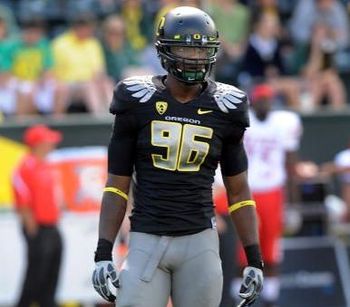 1. Kansas City Chiefs: Luke Joeckel, OT Texas A&M
2. Jacksonville Jaguars: Sharrif Floyd, DT Florida
3. Oakland Raiders: Geno Smith, QB West Virginia
4. Philadelphia Eagles: Eric Fisher, OT Central Michigan
5. Detroit Lions: Dee Milliner, CB Alabama
6. Cleveland Browns: Dion Jordan, OLB Oregon
A lot of people are speculating Ziggy Ansah here, mostly due to Tony Grossi's hard-on for him. It'd be foolish to think Ansah isn't in the mix here, but Jordan comparable statistics than Ansah did and had similar numbers at the Combina. He's also further along developmentally. Ansah has an astronomical amount of potential, but at pick six, it also presents a risk.
7. Arizona Cardinals: Matt Barkley, QB USC
8. Buffalo Bills: Cordarrelle Patterson, WR Tennessee
9. New York Jets: Ziggy Ansah, OLB BYU
10. Tennessee Titans: Chance Warmack, OL Alabama
11. San Diego Chargers: Desmond Trufant, CB Washington
12. Miami Dolphins: Bjoern Werner, DE Florida St.
13. Tampa Bay Buccaneers: Xavier Rhodes, CB Florida St.
14. Carolina Panthers: Star Loutulelei, DT Utah
15. New Orleans Saints: Jarvis Jones, OLB UGA
16. St. Louis Rams: Lane Johnson, OT Oklahoma
17. Pittsburgh Steelers: Damontre Moore, OLB Texas A&M
18. Dallas Cowboys: Jonathon Hankins, DT Ohio St.
19. New York Giants: D.J. Fluker, OT Alabama
20. Chicago Bears: Manti Te'o, LB Notre Dame
21. Cincinnati Bengals: Barkevious Mingo, DE/OLB LSU
22. St. Louis Rams: Tavon Austin, WR WVU
23. Minnesota Vikings: Keenan Allen, WR Cal
24. Indianapolis Colts: Sheldon Richardson, DL Mizzou
25. Seattle Seahawks: Dantone Jones, DE UCLA
26. Green Bay Packers: Tyler Eifert, TE Notre Dame
27. Houston Texans: Kevin Minter, LB LSU
28. Denver Broncos: Eddie Lacy, RB Alabama
29. New England Patriots: Sylvester Williams, DL UNC
30. Atlana Falcons: Sam Montgomery, DE LSU
31. San Francisco 49ers: Margus Hunt, DL SMU
32. Baltimore Ravens: Barrett Jones, C Alabama