Since everyone on the internet is putting together mid-season All-Pro/All-Division Teams, I figured I'd get in on the action. Analysis and explanation is included when 1) I felt like it and 2) I thought it was necessary.
First for the All-AFC North Team:
Offense:
QB: Ben Roethlisberger, Steelers
RB
:
Ray Rice, Ravens:
Going over the stats it was a surprisingly close call between Rice and Trent Richardson, and I attribute that to Cam Cameron not utilizing Ray Rice properly. However, Rice has to get the call here with most rushing td's and yards.
FB: Vonte Leach, Ravens:
Sure as hell wasn't going to be Owen Marecic.
TE: Heath Miller, Steelers
WR 1: AJ Green, Bengals
WR 2: Mike Wallace, Steelers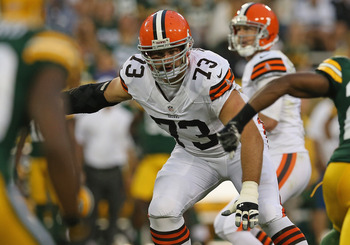 LT: Joe Thomas, Browns:
It seems like every year we say Thomas isn't playing up to his exceptionally high standards, but every year he's a top tackle.
LG: Clint Bolling, Bengals
C: Alex Mack, Browns:
Is Maurkice Pouncy overrated? I think so. He's solid, but if you need further proof that Mack is the real deal, check out what Haloti Ngata
said about him last week
.
RG: Marshal Yanda, Ravens
RT: Kelechi Osemele Ravens:
No real clue here, but I saw on Footballoutsiders.com that the Ravens ranked 1st in yards off the right tackle. Good enough for me.
Defense:
DE: Michael Johnson, Bengals
DT: Geno Atkins, Bengals
DT: Haloti Ngata, Ravens
DE: Brett Kiesel, Steelers
OLB: Lamar Woodley, Steelers
ILB: D'Qwell Jackson, Browns:
In the midst of another great season in Dick Jauron's 43 defense.
OLB: Vontaze Burfict, Bengals:
Having a great season since falling out of the draft last April.
CB: Joe Haden, Browns:
Yes, he missed 4 games for Adderall. Yes, he's that good, even after a down week against the Ravens last week.
FS: Ed Reed, Ravens
SS: TJ Ward, Browns:
Boss Ward is having his best season yet.
CB:
Sheldon Brown, Browns:
He's not as bad as people tend to say he is, and he's putting together a solid 2012 campaign.
Now for the Browns Mid-Season Awards.
MVP: D'Qwell Jackson:
Defensive leader is responsible for a unit that has over-achieved to amazing lengths at times this year.
Offensive Player:
Trent Richardson: Imagine how effective he'll be when he gets to 100%
Defensive Player: TJ Ward:
See above.
Breakout Player: Josh Gordon:
Anyone see the kind of deep threat he's emerged as coming so soon?
Unheralded Player: Frostee Rucker:
He's been a stabilizing and steady force on the d-line.
Now, let's start talking about head coaching candidates and potential first-round picks!