It's August 1st, so everyone is writing Trading Deadline articles on how boring it was thanks to the new extra Wild Card or how the date needs to be moved back since teams aren't selling right away. I have made an executive decision for Cleveland Rocks to not piggyback these stolen ideas and retread them like every other blog on Earth. Instead, I am starting a blog series that I'll hopefully actually complete in a month analyzing the past 20 years of the Indians drafts. It starts with the World Series era (94-01), otherwise known as the "FUCK! The Browns Moved" & the rest has been a bunch of sad seasons mixed in with 2 random above average ones.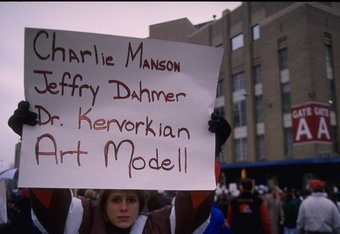 If you were (un)lucky enough to continue paying attention to the Tribe after the Browns came back, you will have realized after the John Hart era the Tribe has decided to suck both in the war room and on the field. Mark Shapiro and his heir apparent Chris Antonetti have more or less produced a giant bucket of asshole in the draft, which right now Brad Grant is trying to convince is a trend that is changing. While the team has made tons of savvy trades flipping many of these failed prospects for something of value, they would be much better off to actually draft good players instead of finding them on other teams.
Since I'm not about to do and ungodly amount of research, we are going to have a 2 pieces of groundwork that we'll be following.
1. Only Players who Signed with the Team Count.
It's way to hard to project how a guy like Desmond Jennings would've come up with the Tribe, and it's even harder to pretend I have any idea of whether the team was really trying to sign an out of high school Tim Lincecum or not. Either way, the Brian Sabean and the Giants will continue doing backflips thanks to Lincecum and Brian Wilson (TWICE) not signing with us.
2. You Gotta Play in the Big Leagues.
I'll try and mention little tidbits about guys who we traded and brought in some value for, but I have no idea who we traded to get Chris MaGruder and I'm really not going to pretend like anyone involved in that transaction had value.
Honestly, I have just assumed that the Tribe has been worse the Browns when it comes to drafting and that's why I'm doing this this. Anyways, less paragraphs about what I'm doing and more mentions of Chan Perry.
1994 draft:
RHP Jaret Wright (1), RHP Rick Heiserman (3), RHP Danny Graves (4), 3B Russell Branyan (7), SS Julius Matos (16), OF Bruce Aven (30), and 1B Chan Perry (44)
Initially, this is what our typical drafts looked like. Wright reached uber-prospect level in '96 and we ultimately felt his future career was more important then dealing him straight up for the best pitcher of the steroid era Pedro Martinez. While we mostly remember Jaret for being a failure he gave us a 1.4 and 2.0 WAR season at ages 21 & 22. All signs pointed towards a career path similar to Jake Westbrook in terms of productivity with a good season here and there & maybe even an All Star birth or two. Instead Wright went the way of Fausto Carmona and totally blew sack in '99 going 8-10 with a 6.06 ERA and 1.65 WHIP in 26 starts. Over the next 3 years he would only pitch in 24 games (22 starts), hit free agency & immediately bolted. Still, overall Jaret gave us a few good years and actually ranks as our second best 1st round pick, which is just a quick sign of how ugly things are to come.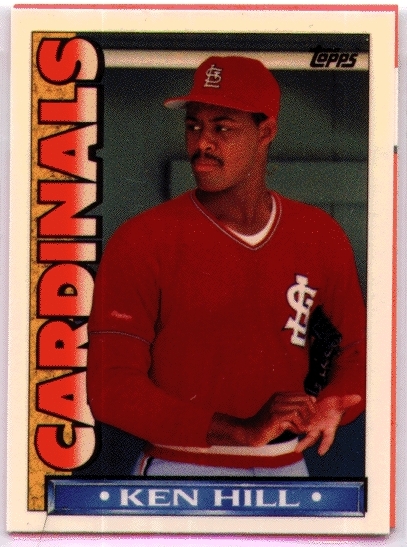 Heiserman and Graves were both flipped in '95 to help us reach the World Series. Heiserman, our 5th round pick named Pepe McNeal (clearly awesome name), and David Bell went to St. Louis for Ken Hills & his half a season 1.5 WAR. Graves was part of a huge package that brought John Smiley and Jeff Branson to Cleveland. While Smilies arm exploded after 6 starts and Branson was just a utility player for 2 years, both guys at least provided positive value during the playoff years and you can't exactly predict arm explosions.
Paul Bunyan, or err Russell Branyan gave the Tribe 5 years of awesome home runs and amazing
in-game breezes thanks to his absurdly high strikeout rate. Truth be told, Branyan was one of the first "3 True Outcomes" players & helped usher in a new era in baseball where the strikeout wasn't massively frowned upon. Big Buss hit 45 HRs & drove in 115 RB
Is in parts of 5 seasons with the Indians, which wasn't too shabby for a bench during the playoff years. For a 7th round pick he brought back more
value then anyone (especially this team) could have expected, and even netted a positive return when we dealt him and his impending free agency to the Reds for 5 below average years of Ben Broussard, who was at least a major league player.
I have absolutely no memory of Matos, who the team released before he ever made he bigs. He OPSed under .600 for two cellar dwellers (KC & SD) in '02 & '03 and then rightfully was never heard from again. Both Aven and Perry had cups of coffee with the big league club in 1997. Aven went 4 for 19 before the Marlins took him off waivers in the offseason, & Perry went 1 for 14 before hitting minor
league free agency. Aven actually floated around under '02 when he came back to the Tribe, went 2 for 17 and disappeared forever, while Perry showed up in KC in '99 to go 1 for 12 then retire. On a side note, there was a rumor in my family that Perry and his brother Herb were on my uncles mail route so he is forever ingrained in my mind as a poor MLB player who had to rent a house Parma. Come to think if it, I wonder if he still lives there.
Anyways, the 1994 draft analysis is over. While this draft is solid, there is nothing to suggest that this should be one of the best drafts in the past 20 years. Well, it might be hard to read the rest of these, but this is it. This is the peak. Jaret Wright, Russell Branyan, 2 pieces of trade bait, 3 replacement level dudes, and 1 rented house in Parma is the peak of the past 20 years. And it was 20 years ago.
Yeah, fuck.