It's been a few hours since I've left BDubs, so I've had some time for the alcohol to die down and my temper to do the same. But if you think I'm going to come away from this game with any hint of optimism you're wrong. Here are my unfiltered thoughts about today. Keep in mind I don't have time to sit here and break down film like some unemployed lunatic.
1) Greg Little Can Get Off My Team--No, Seriously
Different number, same result
I WANT to like Greg Little. I've tried so hard. I supported him time and time again his rookie year. He pissed me off last year until he started to put it together the second half of the season. That's what makes it even worse this year. He looked like he was finally "getting it." You can say what you want about him being "all we have" until Gordon comes back. Or that he's the "best of the worst." I refuse to believe it. In the most fundamental sense of the game, recievers' jobs are to catch the football. Say what you want about route running, straight-line speed, blocking on the outside, etc.,
if you can't catch the football it all goes to shit. I can't sit here and watch Greg Little drop passes week after week (often times directly leading to interceptions (last week) or almost leading to interceptions (this week)) and accept the fact that he's "the best we have." A receiver that can't catch the football is a waste of a roster spot. Period.
2) The Secondary Needs Help--But We Knew That
I'll admit I was/have been pleasantly surprised by the secondary up to this point, today included. But, we've seen how stout the run defense is, the pass defense is the weak point of this defense. This isn't to say that the defense is in dire straights at all, but I think everyone will admit that a bonafide #2 CB is the next (dare I say final?) piece to the defensive puzzle.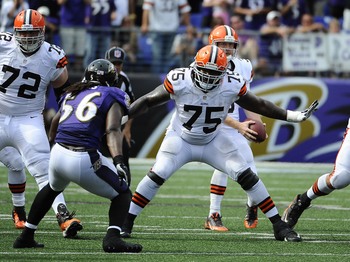 I guess not blocking anyone is better
than being put on your ass.
3) The Offensive Line Played Better, But Cousins Still Blows
Last week Weeden didn't have time to do anything, let alone make clean throws. This week, while the
offensive line was still shaky, there was time to make plays. And while Weeden has to make them, I still put a lot of the blame on the receivers for not coming up with the ball. Regardless, this point is about the offensive line. Like I said, they played markedly better versus the Ravens. Hey, I only saw Oneil Cousins get steamrolled about half a dozen times this week! Also, what's the deal with Mitch Schwartz. The Bear Jew looks like he's hitting a big sophomore slump this year after what was an exceptional rookie campaign.
4) Maybe Trent Richardson Isn't As Good As We All Like To Think He Is
Through two games Norv Turner, appropriately described as one of the best play callers of all time, has run Trent 31 times. That's an average for 15.5 rushes a game, for all you math geniuses out there. And let's not get delusional like Turner doesn't know how to utilize good running back talent.
His running back resume:
Put Emmitt Smith (Dallas) and Ladanian Tomlinson (San Diego) in the Hall of Fame
Coached Ricky Williams (Miami) to over 1,800 yards in 2002 and 1,300 yards in 2003
Got Lamont freaking Jordan (Oakland) to crack 1,000 yards in 2005
Was the offensive coordinator when Frank Gore (San Francisco) broke out for 1,600 yards in 2006
I'll stop there, but you get the point. If anyone deserves the benefit of the doubt for the use of Trent Richardson, it's Norv Turner. And say what you want about teams stacking the box, yada yada yada. Teams stack the box against Adrian Peterson, too, and AD was the guy whom everyone compared Trent to coming out of Alabama. If you had to guess Trent's stats were right now, through two games and 31 carries, what would you say. If you answered something along the lines of 3.4 YPC and a long of TEN YARDS, you'd be right. Think about that. Ten Yards. I'll keep supporting Trent and hoping that I'm wrong, but it's hard to argue with mediocre numbers being put up at this point.
That's my rant about yesterday's game. It's Monday now, so I'll do my best and put it behind me. I'm sure by Saturday afternoon I'll be fully on board with a Browns win against Minnesota (since their run defense is top 5 and Christian Ponder isn't going to beat them). And they'll let me down again, no doubt.
(Hey, at least the Tribe is only .5 game back of the wildcard!!! Let's be real, Cleveland. It's football season.)