New England has been the land of fantasy dreams over the past decade. These past ten years anyone who cared to pay attention has realized Bill Belicheck is a man amongst boys when it comes to offensive innovation. Sure Chip Kelly looked great on Monday night slicing up a San Diego defense that constantly looked gassed, but Mr. Belicheck has a wee bit stronger track record. Every owner tied to the 2007 Patriots remembers how Tom Brady & Randy Moss pushed their team into the fantasy playoffs. Every Sunday kickoff was a passing clinic on how to carve the Nickle corner up like a turkey. Even before they revolutionized the passing game, wide outs like Troy Brown, David Givens and David Patton saw their careers and fantasy stocks rise like mercury when attached to the New England offense. Every year on draft day multiple Patriot receivers always find a way onto a fantasy owners team, expecting
the one
to be the big thing.
Enter Julian Edelman. Largely overlooked during our sessions with chicken wings and beer, the former Kent State quarterback jumped to number one on our waiver wires following his 7-79-2 performance Week 1 against the Bills. Tom Brady & Co. are dealing with drastic measures, as Wes Welker the offense that made him to join the Greatest Show on Tundra. Aaron Hernandez found himself incarcerated for a murder tied with his desire to join The Rock and the Gridiron Gang. Rob Gronkowski went under the knife with the timetable to return unknown, and even Week 1 hero Shane Vereen now finds himself on the sidelines until at least Week 11. All signs point towards an Edelman breakout in the greater Boston area, only it isn't going to happen.
Edelman entered the Belicheck offense in only his second week as a pro, hauling in 8 passes for 98 yards in a Week 2 loss against the Jets in 2009. This year he enters a Week 2 game against the Jets with expectations almost surpassing that rookie year performance. The only problem, between the 206 weeks between that 2009 game and Week 1 (and the 63 regular season games that come with it) Edelman has caught over 75 yards a whopping one time. That game was Week 16 in 2009 when the entire Patriots squad was participating in a game that took place entirely during garbage time. Hell, Edelman has caught over 4 balls (4!) 3 times. For comparison, Greg Little has 12 games with 5+ catches in half the time span.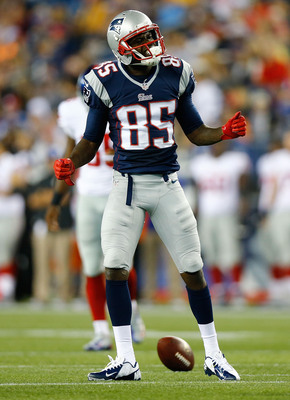 Even heading into this year, there were no guarantees that Edelman's roster spot was safe. The Patriots grabbed Aaron Dobson (2nd round) & Josh Boyce (4th round) in the draft and had undrafted Kenbrell Thompkins leading the offseason in fantasy buzz. There is no reason anyone should expect Edelman to be the savior in New England. Belicheck has seen the guy on the practice field for the past three years and knows his limitations. Julian is an okay 4th WR who can play special teams and sub in as a 6th DB better then anyone else out there, but he isn't going to leap into the roll of Tom Brady's go to guy.
Maybe Edelman will repeat least weeks performance. Maybe Week 3 there will be stats that are acceptable to the fantasy community, but come Week 10 this man is not going to be on any rosters. He is worth a plug-&-play spot right now, with a banged up Danny Amendola doubtful, but he isn't casting a season long crown. Someone between Dobson, Boyce, Thompkins & Sudfeld is going to step up and then Julian can go back to getting his 3 special teams tackles a game.
Sell high. Sell low. Sell now. Sell. Sell. Sell