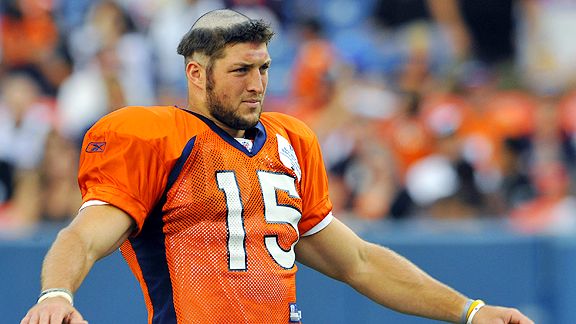 Is that hair or a crown of thorns?
In light of the entire Peyton Manning saga, Tim Tebow is lost in the mix. The Broncos are apparently going to shop Jesus Christ himself, and I'm here to make the case that Browns fans shouldn't scoff at the notion of acquiring Tebow as quickly as they are.
Through his first [somewhat] full season as a starter, here are Tebow's stats in the past 13 games. Aka his starts this season, including the playoffs.
141/308
46% completion percentage
2,102 yards
13 TDs
6 INTs
13 Fumbles
38 Sacks taken
6 Rushing TDs
Now, most people bitch and complain about those stats, and rightfully so. But Tebow has won with those stats. He's won with bad stats, and imagine if he continues to develop. I know, I know, but think about Pat Shurmur and Brad Childress. These two guys are known for their ability to develop quarterbacks, most notably Donovan McNabb. He turned out to have a half-way decent NFL career. Just for the hell of it, let's check out McNabb's stats through his first 13 games started.
225/401
56% completion percentage
2,189 yards
17 TDs
12 INTs
9 Fumbles
34 Sacks taken
3 Rushing TDs
Hmmmmm, those stats don't look all that different. Yes, Tebow's completion percentage is significantly lower, but that is something that young quarterbacks develop throughout their careers with good coaching. Look at how McNabb developed with Shurmur and Childress.
The point of this blog isn't to say that the Browns need to go out and pick up Tim Tebow today. But it is to say that Browns fans shouldn't jump to crucify Tebow or the Browns if they are interested in getting him. If Tebow becomes a Brown and Shurmur and Childress do a fraction of the job they were able to do with McNabb, I think Cleveland fans would be ecstatic.
Oh, by the way, cut the bullshit about Tim Tebow not having any potential or room to develop. He was a first round quarterback and beat out a decent QB in Kyle Orton this past season.
WWTTD