Everyone knows that the Indians having the best record in the American League 10% through the season is a surprise. Frankly it's surprising that the Indians have a record over .500, let alone a record that leads the AL Central. Lots of people are trying to explain what the change is from last year to this or whether or not they'll keep it up. While that's all good and dandy, why don't we give some credit to this guy:
New Tribe GM Chris Antonetti went into the off season with an actual plan and stuck to it. The majority of our fan base was angry that the Dolan's gave him the job after old GM Mark Shapiro was "promoted". Basically Tribe fans saw Antonetti as nothing more then a new Shapiro with some facial plastic surgery which didn't get him off to the kind of start he would like. Then while the Red Sox were helping Carl Crawford fund a Salvation Army youth league and the Phillies and Cliff Lee were ignoring how awesome it is to play in an Indians uniform, Antonetti and his plan too place, and relatively nothing happened.
He brought in Paul Phillips and brought back Luke Carlin on minor league deals with invites to Spring Training. Even though I personally don't like Paul Phillips (and I'm not sure how I actually have an opinion of him, but I do), both of these moves were smart and savvy. The team needed catching depth that could handle a big league staff with the Guitarist coming back from his knee injury and Lou Marson struggling mightily to hit big league pitching, and Chris Gimenez and Wyatt Torregas leaving to try and make a big league club elsewhere.
Next Antonetti brought in Jack Hannahan and Adam Everett on minor league deals with invites. I saw this move as Phillips and Carlin just in the infield, but with a stronger undertone, while the majority of fans saw this as penny-pinching for depth. Sure Everett and Hannahan have bounced around franchises, but it's solely because they can't hit. They are both great defensively and even if they put up their career lines (.224/.310/.349 and .244/.295/.344 respectively), they'll both bring a very necessary defensive presence on the infield, something the team severely lacked in 2010. I mean, does Hannahan not look like a sure-fire All-Star to you?
Travis Buck signed a minor league deal soon thereafter. Although we have no need for another left handed outfielder (Brantley, Sizemore, Choo) Buck came as cheap as they come, and when healthy he's been productive. He also got some work in at 1B during Spring Training and can play CF. With options left, he's been a solid extra OF while Sizemore was out and I'll be shocked if he's not the guy we option when we need a starter to fill Talbot's spot, but for a minor league deal Buck is a great value.
The next move seemed like it would be the last one of the offseason when Austin Kearns was brought back. Although I did not like the idea of giving Kearns over 1 mil guaranteed, the team needed some other type of right handed bat and Kearns proved he could hit AL Central pitching last year, so the move could've been way worse. Naturally most fans saw this as a repeating the cycle of last year, but this time a right handed bat like Kearns was actually needed. Most importantly Kearns showed a desire to get better this offseason by taking the Miguel Cabrera approach, get a DUI to take attention away from how awesome his stat line is.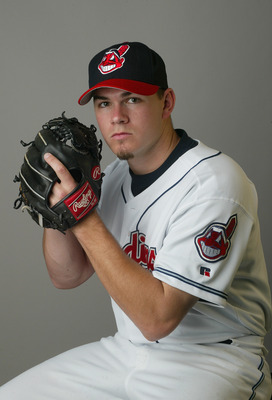 Right before Spring Training the team gave Orlando Cabrera and Chad Durbin major league deals, both for around 1 mil each. While I was thrilled with Cabrera's deal (he's Everett/Hannahan with some actual offense and a positive veteran presence in the locker room), I completely detested the Durbin signing. For one, we had him in 2003 when our staff was an abortion and we waived him after giving up 7 runs in less then 9 innings. Not only has he been horrible in the past with us, he's never pitched late in ballgames. If there was any need for a veteran in bullpen, it would be late in games. However, during Durbin's career he's either been a starter, long, or middle man. Chris Perez is solidified as our closer with plenty of other younger, more opportunistic, and cheaper relievers set for middle and long relief roles. Naturally, Durbin's been shit in under 4 innings this year picking up an extra innings loss in the process and will likely be a released before the Trading Deadline. I would have preferred to see Jensen Lewis or Doug Mathis make the team in the long role until one of them steps up/steps down and needs to be DFAed, somewhat like Jorge Julio and Luis Vizcaino have been used in past years. Sure they're not very good, but neither is Chad Durbin and they'd make a hell of a lot less then him. Here's some photo evidence of Chad Durbin looking horrible before pitching horrible.
Overall Antonetti is a main reason as to why this team is 12-4 and as good as it is. He spent around 3 mil bringing in 6 guys currently on the big league roster all while giving younger players an actual shot to play regularly. Instead of signing Russell Branyan for no fucking reason and dealing him a month before the deadline to an idiotic GM for a poor man's Josh Anderson, Antonetti fit the teams needs all while staying cheap and saving money for the future. This team may slow down and finish in 4th with 70 wins (hopefully not), but at least the Dolan's will save some money to actually spend in a year or two when our younger guys hit arbitration and need to get paid. I'll leave you with a picture of Larry Dolan looking into the future and seeing the Tribe's back-to-back World Series in 2013 and 2014.
He sees victory.